Baby Crochet IB-1 Washed Pink (Soft felt non-slip bottom & Shoe Box)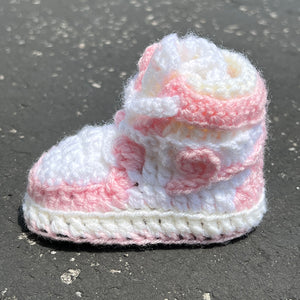 Baby Crochet IB-1 Washed Pink (Soft felt non-slip bottom & Shoe Box)
Regular price
Sale price
$31.99
These are hand-crafted crochet shoes inspired by latest shoe design ideal for babies. Enter your baby into the world of sneakers. These cute baby shoes are the perfect finish for every baby's outfit. 

Handmade item
Color: Pink, White and off white
Materials: acrylic, cotton, wool felt
Premium Collection: Includes soft felt non-slip bottoms 
Size Chart:
Newborn (3"L ) - 8 cm
0-3 Months (3.5"L ) - 9 cm
3-6 Months (4"L ) - 10 cm
6-12 Months (4,5"L) - 11.5 cm

Care: Hand washes in cold water and air dry. Do not wring, Iron or bleach.
Similar products
Customers who viewed this item also viewed